Heathrow Express
Retour of one-way ticket tussen Londen Heathrow Airport en Paddington Station in Londen, met Heathrow Express, Reistijd ca. 20 minuten.

De tickets worden naar uw e-mail verstuurd. Alle treintickets worden manueel opgemaakt en we kunnen niet beloven dat u de tickets op dezelfde dag dat u bestelt zult ontvangen, dat kan een paar dagen duren. We beloven u echter dat u de tickets ruim voor uw vertrek zult ontvangen. Als u dicht tegen de vertrekdatum reserveert, ontvangt u de tickets zo snel mogelijk.

Kies "Geldig vanaf " datum als de datum waarop U de treintickets zult gebruiken. Bestelt U retourtickets moet de terugreis binnen een maand van de "Geldig vanaf" datum gebruikt worden.

Kinderen onder 5 jaar reizen gratis in begeleiding van een volwassen (Op tot 4 kinderen per volwassen). Kinderen tussen 5 en 15 jaar moeten een geldig kinderticket kopen.

NB. Er wordt een gezamelijk ticket per bestelling gestuurd!
NB. U kunt niet tickets bestellen voor dezelfde dag.

Op vakantie rijdt de Heathrow Express niet zo vaak en op de 25/12 rijdt ze helemaal niet!

You must check(we cannot do that!) that trains departs to/from London City to/from the airport, if you have flights that departs/arrive very early in the morning or late at night. We cannot refund a train ticket, neither totally or partly, if you cannot use your train tickets because you then will miss your flights departure or arrival.

Heathrow Express Klantenkommentaren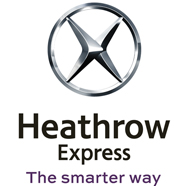 Info
Heathrow Express
Adres
Klik op "kaart" om én kaart over Londen´s metro (Tube Map) te zien.


Zie op een kaart